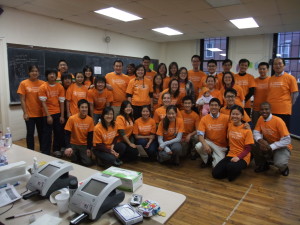 The Kidney Disease Screening and Awareness Program (KDSAP) was created and founded by Li-Li Hsiao, M.D., Ph.D., in March 2008. The first KDSAP chapter is registered at Harvard College, where Dr. Hsiao has served as the official advisor since the program's inception. KDSAP has two key objectives: student career development and community outreach.
Dr. Hsiao has created many innovative programs within KDSAP to benefit its student members. KDSAP offers several speaker series and programs each semester that expose students to the scientific and medical professions while facilitating the development of mentor-mentee relationships. KDSAP members may also participate in community outreach and run monthly screenings in medically underserved communities per request by the community leaders. KDSAP members have opportunities to develop leadership skills through the organization and management of screenings while providing kidney health screenings.
KDSAP is one of the first programs to use a model that strategically targets undergraduate students early in their educational career to help address the current nephrology workforce crisis. KDSAP has gained nationwide and international attention and has a growing number of chapters around the US. Visit our Chapters page to see where they are.