KDSAP's community outreach branch program: Community Kidney Disease Detection (CKDD) provides FREE kidney health screenings to medically underserved communities. Anyone who is at least the age of 18 is eligible to participate. Each overall health screening is composed of eight individual health screening stations.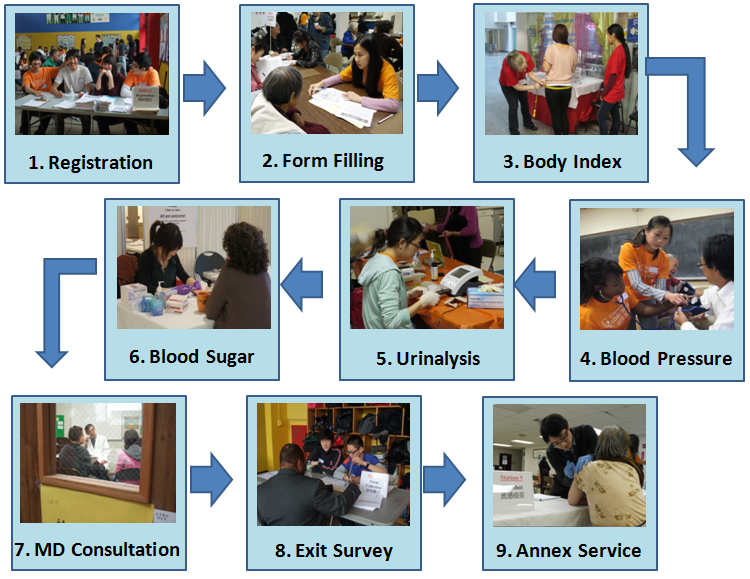 On select months, additional health services are provided at the kidney health screenings. These services may include seasonal flu vaccinations, eye exams, dental consultations, or pharmacy consultations. Please note that although participation in a KDSAP-CKDD screening will provide you information about your health, participation DOES NOT establish a physician-patient relationship.
In the Greater Boston Area, screenings are generally scheduled on the first Saturday of each month. There are occasions where screenings may be scheduled for following Saturdays. For communities that are more remote or difficult to travel to, it would be greatly appreciated if the requesting organization is able to assist with transportation to and from the screening site for the volunteers. For example, by providing rides between a commuter rail station and screening site. Request your screening
There is no KDSAP-CKDD screening in September because this month is set aside for our volunteer training workshop. January screenings are usually unavailable as well because our student volunteers, which are KDSAP-CKDD's main volunteer sources, are away for winter recess. However, if a hosting organization is able to provide a full set of volunteers (25-30 volunteers), we would be happy to train the provided set of volunteers and offer a screening. Please contact KDSAP to find out more information about a January screening.
Out-of-state screenings may be requested for the month of January and the summer recess months, June-August. Each KDSAP-CKDD screening requires 25-30 volunteers, depending on the expected number of screening participants. KDSAP is not able to transport volunteers from Boston to other states. Requesting organizations will need to provide volunteers for the screening. No medical background is needed for the screening volunteers. A training session will be given to the volunteers the night before the screening. Request an out-of-state screening